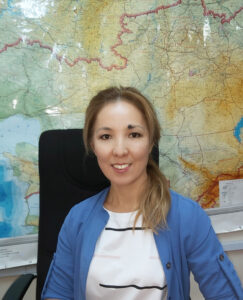 Head of Department - Candidate of Geographical Sciences,
Karagulova Roza
E-mail: karagulovaroza@mail.ru
History. The creation of the Department was preceded by the period of time which has shown that available cartographical materials and works of various departments and themes cannot represent only any intermediate stage of researches and is worthy to be organized as a separate department of the Institute of Geography doing mapping, analysis and representation of maps and maps-schemes of different scales. At the initial stage in 2003, being as a part of the Department of Geomorphology and GIS cartography, equiped with up-to-date  equipment, the Center of GIS technologies already carried out a number of cartographical works performed not only by fundamental but also by international projects. In 2006 Center, it was restructured as a separate department of GIS.
The main research direction of the laboratory is conducting research through spatial analysis and interaction of information with geographical reference; creating geoinformation systems and thematic databases for conducting scientific research in the field of studying natural resources and its use; geoinformation assessment and monitoring of natural resources; Development of GIS-oriented web-applications, geoportals; development of geospatial analytical and computational web-services for projects on digitalization of natural resources.
Results: The laboratory developed the concept of Atlas mapping of the Republic of Kazakhstan as a system of visual and expressive works United by a common goal, unity of methodology and consistency of results. The concept of Atlas mapping is implemented in a multi-functional set of atlases: National (nature, society, environmental ecology), Regional (Mangistau region), Industry (emergencies).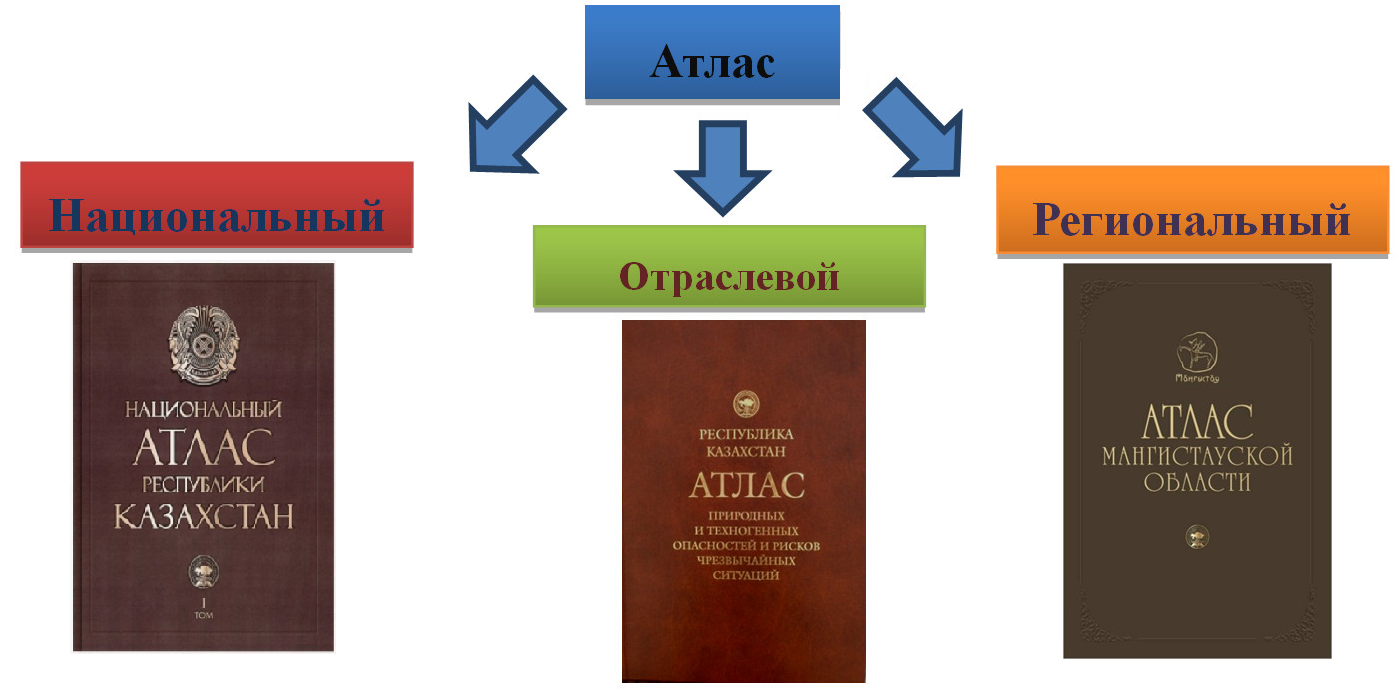 In 2018, a GIS-oriented web application "Lakes of the Republic of Kazakhstan" ("E-Lake") was developed. This online resource is intended for decision-makers in the field of water resources management, as well as for the scientific and educational community (http://elake.geoset.kz).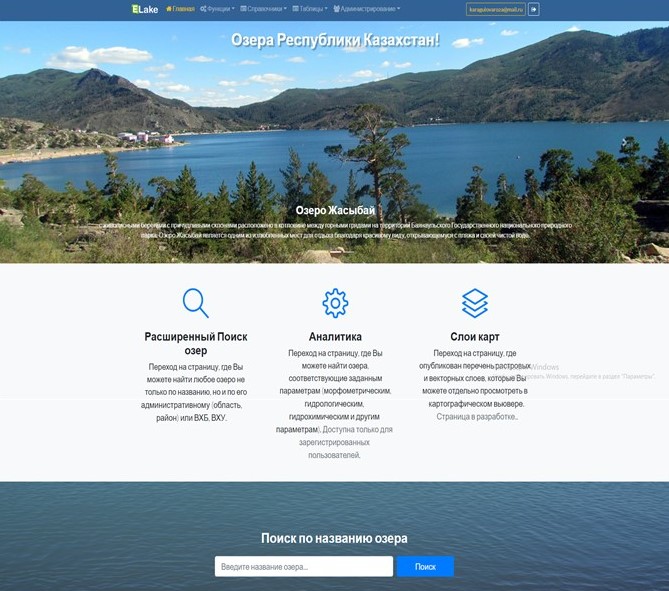 In 2020, a web application "Kazakhstan Climate Change" was developed (https://geoportal.ingeo.kz/climate#), which provides easy access to information and tools for geospatial analysis of climate data and regional climate changes on the territory of the Republic of Kazakhstan and adjacent territories. The target users of the web application can be representatives of the scientific and educational community, as well as project and government organizations involved in the development of strategic state programs for climate change adaptation, improving the efficiency of water resources management and ensuring water security.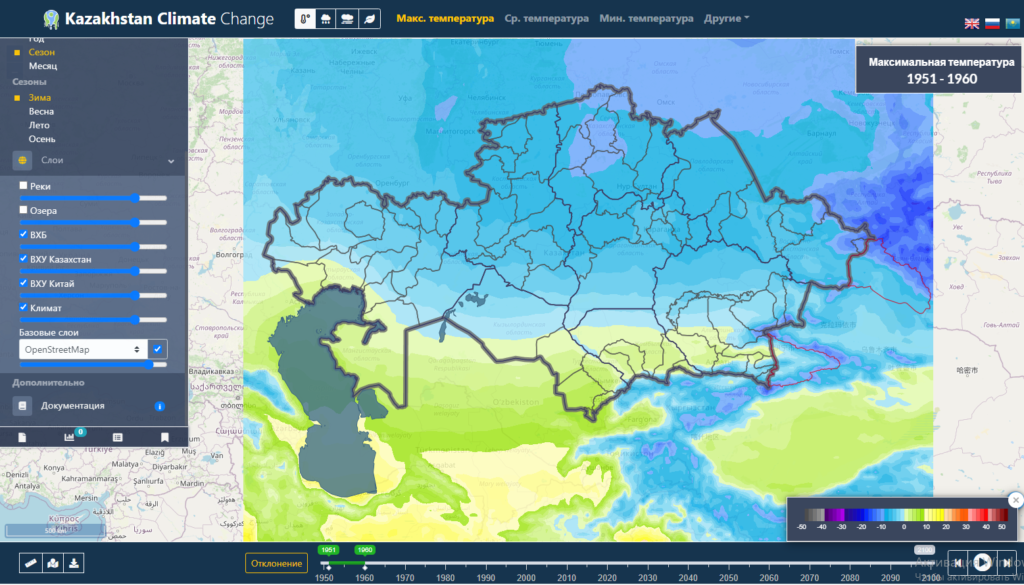 Staff. The laboratory currently has 8 employees, including 1 candidate of geographical Sciences, 1 senior researcher, 4 researchers, 1 Junior researcher, and 1 lead engineer. Employees have international certificates confirming their competence in the use of GIS technologies.
Prospect of development. The main directions of development of the laboratory are the use of software geoinformation complexes in their work to create electronic interactive complexes based on the geoportal, WEB services and products on digital media. 3D modeling and modeling with additional reality (4D) of natural complexes are also being mastered.
Publications
Medeu A.A. Teoretiko-metodologicheskiye instrumenty ekonomocheskoi otsenki vodnyh resursov // Voprosy geografii I geoekologii. – 2014. - №3 – P. 24-30.
Medeu A.A. Metodika otsenki urovnya sotsialnoi napryazhennosti v usloviyah transformacii sredy zhizneobespecheniya // Mater. 1-oi mezhd. nauch. – prakt. konf. «Opustynivaniye tsentralnoi Azii: otsenka, prognoz, upravleniye», Astana, 25-27 sentyabrya 2014. – S. 333-343.
Akiyanova F.Zh., Askarova M.A., Iskakov N.A, Medeu A.R., Malkovskiy I.M., Skorintseva I.B., Tokmagambetova R.Yu. Natsionalnyi atlas Respubliki Kazakhstan – kartograficheskaya osnova ustoichivogo raxvitiya. // Materialy mezhdunarodnoi konferencii «Natsionalnye atlasy v formirovanii glabalnogo informacionnogo prostranstva», Ukraina, Kiyev. 2012. – S. 4-6.
Tokmagambetova R.Yu., Makanova A.U. Meropriyatiya po snizheniyu vozdeistviya opustynivaniya na demograficheskuyu situatsiyu Kazakhstana I ih kartografirovaniye./«Gidroekologiya I meterologiya», №4 , 2013. – S.120-130.
Orazbekova K.S., Iskaliyeva G.M. Ispolzovaniye GIS tehnologiy dlya ocenki processov opustynivaniya Kazakhstanskogo Priaraliya. Materialy 1-oi mezhdunarodnoi nauchno-prakticheskoi konferentsii «Opustynivaniye Tsentralnoi Asii: otsenka, prognoz, upreavleniye» Astana, 2014.
Orazbekova K.S., Tolepbayeva A.K. Otsenka I kartografirovaniye ekologicheskogo sostoyaniya okruzhayushchei sredy na osnove GIS-tehnologiy (na primere Vostochno-Kazakhstanskoi oblasti) «Sovremennye kontseptsii nauchnyh issledovaniy», materialy IV-oi mezhdunarodnoi nauchnoi konferentsii. Еvraziyskiy Soyuz Uchenyh, yezhemesyachnyi nauchnyi zhurnal. – Moskva, 2014 - №4 (12) – S. 107-110.
Толепбаева А.К., Уразбаева Г.М. Ертіс өзені алабы атмосфералық ауасының күкірт диоксиді шығарындыларымен ластануы (Өскемен қаласының мысалында) // Вестник КазНУ, Серия экологическая. – Алматы, «Қазақ Университеті», 2017. – №3 (52). – С. 76-86.
Sagin, D. Adenova, A. Tolepbayeva & V. Poryadin (2017): Underground water resources in Kazakhstan // International Journal of Environmental Studies, Vol. 74, 2017 – Issue 3. Taylor & Francis (Routledge. P. 386-398 https://doi.org/10.1080/00207233.2017.1288059  IF 0.59
Tolepbayeva A.K., Orazbekova K.S., Karagulova R.K., Nurkisa A.S., Kadirbekova A.A,  J. Lentschke,  Kazova R.A. Modeling the impact of man-made landscapes on the state of the soil // Pollution Research Paper. Vol 37, Issue 3, 2018; Page No.(600-605). IF 0.25 http://www.envirobiotechjournals.com/issue_articles.php?iid=259&jid=4
Tolepbayeva A.K., Adenova D.K., Tanbayeva A.A. Assesment and analysis of the environmental conditions of the valley river Ertis (on the example Oskemen city) // 10th International Conference "Science and Technology" 27-29 October 2018. – P. 27-38
Nyussupova, G., Kenespaeva, L., Karagulova, R., Saginbay, O., Aidarkhanova, G.Socio-demographical indicators of an electronic atlas of socio-demographic development of the regions of the republic of Кazakhstan // International Multidisciplinary Scientific GeoConference Surveying Geology and Mining Ecology Management, SGEM. 2018
Искалиева Г.М., Баспакова Г.Р., Танбаева А.А. Создание базы данных озер Казахстана с использованием ГИС технологий // Материалы ХI Международной научно-практической конференци молодых ученых «Устойчивое развитие: региональные аспекты», Брест, 24-26 апреля 2019 г. – C. 363-366
Tolepbayeva A. K., Tanbayeva A.A., Karagulova R. K. et al. (2020) Estimation of the changes in water area based on the use of archives satellite images of landsat satellites (on the example of the Ertis river). News of the National Academy of Sciences of the Republic of Kazakhstan. Series of geology and technical sciences. ISSN 2224-5278. Volume 3, №441 (2020). 79 – 87. https://doi.org/10.32014/2020.2518-170X.57
Толепбaевa A.К., Тұмaжaновa С.О., Кaрaгуловa Р.К., Тaнбaевa A.A., Искaлиевa Г. М. Жерді қашықтықтан зондтау негізіндегі ғаламдық деректер базасы: Ертіс өзені жайылмасының мысалында. // Вестник. Серия географическая. «Қазақ университеті», Алматы, 2020. – №2 (57) – C.16-25
Абиева Д.К., Қарағұлова Р.Қ., Аюпов К.А., Толепбаева А.К., Уразбаева Г.М. Анализ пригодности наборов данных глобальных исследований поверхностных вод (Global Surface Water) для изучения динамики площадей озер Казахстана. // «Вопросы географии и геоэкологии» в печати
Technical and programming support. Department of GIS of the Institute of Geography is equipped by powerful computer equipment (including large-format  plotters and scanners). There is following licensed programming support for developing and realization of GIS-projects : ArcGIS10.3 with additional modules GeostatisticalAnalyst, SpatialAnalyst, 3D-Analyst, ModelBuilder, ArcPress, Publisher. There is a special ERDAS 8.7, ENVI 4.0. programming support for processing data of remote sensing.