Technical characteristics: length - 6,48m; width - 2,54m; board height - 2,63m; load-carrying ability 700kg; passenger capacity - 6 person; draft - 0,53m; wave height -till 1,7m.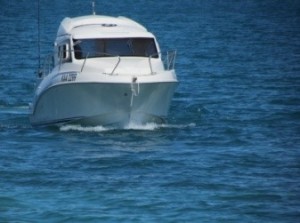 Area of use. It is purposed for coastal floating in seas and oceans. It has good sea-craft allowing safe and with comfort to make practically all kinds of hydrographical works during the whole shipping season in internal water objects of Kazakhstan. It is made from glass-reinforced plastic and absolutely chemical neutral to water environment and that allows making hydrochemical and hydrobiological works. Mounted motor Mercury (power 115 l/s) with hydraulic system of engine rise allows working in shallow water and approaching directly to the coast.
Field works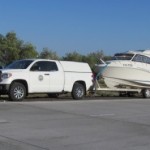 From 2011 to 2014 department of hydrology of water bodies made 6 expeditions: 4 to Balkhash Lake, 2 to Kapshagai water storage basin and one to Itishpes Alakol Lake in southern part of Balkhash. There were made hydrographic as well as hydrochemical researches.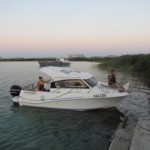 There were made refinement of morphometric parameters of Balkhash Lake with creating of maps of scales 1: 500 000 и 1: 200 000. There were made bathymetric map of Kapshagai water storage basin and Itishpes Alakol Lake (scale 1 : 100 000).