ОПУСТЫНИВАНИЕ ЦЕНТРАЛЬНОЙ АЗИИ: ОЦЕНКА, ПРОГНОЗ, УПРАВЛЕНИЕ
МАТЕРИАЛЫ
1-ой Международной научно-практической конференции
Астана, Казахстан, 25–27 сентября 2014 года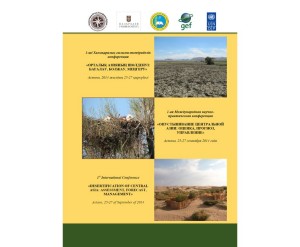 Жинақ географтарға, экологтарға және демографтарға, сондай-ақ жоғары оқу орындарының оқытушы-ларына, студенттеріне және шӛлдену мәселелерімен қызығушылықпен айналысатын кӛпшілік оқырман қауымға арналған.
В сборник включены материалы 1-й Международной научно-практической конференции. Материалы конференции в соответствии с ее общей программой приведены по алфавитному списку авторов.
Сборник предназначен для географов, экологов и демографов, а также для преподователей, студентов высших учебных заведений и широкого круга читателей, интересуюшихся проблемами опустынивания.
Collected articles include materials of the First international scientific-practical conference. Materials of the conference are given in the list of authors according to the general program.
The collection is intended for geographers, ecologists and demographers, and also for teachers, students of high school, and for the broad audience interested in the problems of desertification.